Burnout Kings - Driver Entry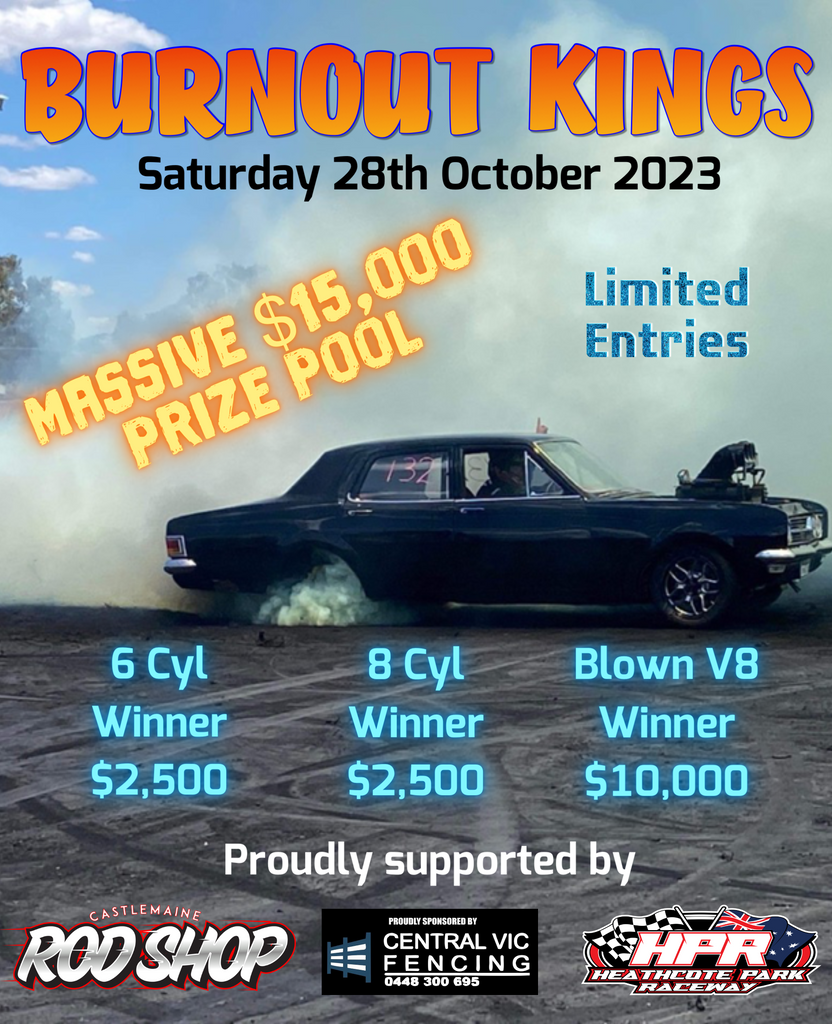 Burnout Kings - Driver Entry
BURNOUT KINGS - Supported by the ROD SHOP!
SATURDAY 28th October 2023
Burnout Kings is back with a confirmed date now of Saturday October 28th, 2023.
We are also pleased to announce the continuing support of 
Central VIC Fencing
who we always appreciate so much for their continued support!
There is $15000 in prize money and trophies for the winners in the following categories:


Trophies & Prize Money for:
- 6 Cylinder $2,500
- 8 Cylinder $2,500
- Blown V8 $10,000

Trophies Only for:
- Best Tip In
- Limiter King
- Driver Control
- HPR Choice


- Entries Open at 4pm Friday 8th September

- Entries will be capped at the following:

6 Cylinder Class - 30 Entrants
8 Cylinder Class - 30 Entrants
Blown V8 Class - 20 Entrants


- Early Bird Entries close 30th September 2023 at 5pm Entries will cost - $200
- Online Entries after 30th September will be accepted up until Friday 27th October 11pm at $250
- Entries from 11pm Friday 27th October 2023 and on the day $300


We will post the link for pre-pay early bird entries at 4pm Friday 8th September 2023.

- Spectators $30
- Spectators Ages 14 and under Free
- Buddy Pass $25